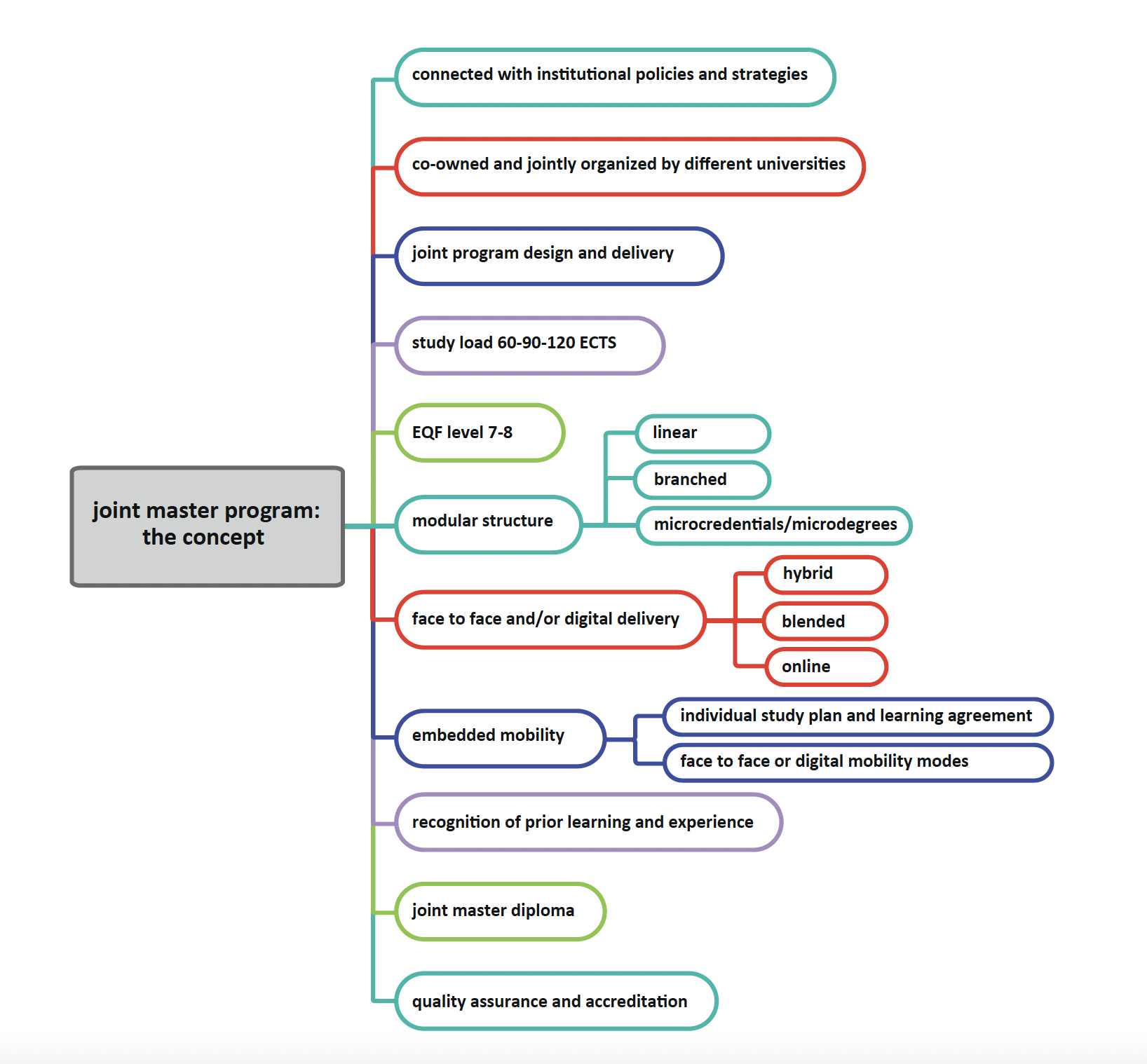 The concept
A joint master's programme can be described as an integrated curriculum jointly designed and delivered by several higher education institutions, each of which co-owns and jointly organizes the programme. The programme is awarded with a joint master's degree:
A joint master's programme is linked to institutional policies and strategies;
The study load of a joint master's programme is 60, 90 or 120 ECTS;
The joint master's award refers to a 7 or 8 European or national level (EQF/NQF);
The programme is modular, as each partner institution organizes a part of the programme. The structure can be linear, branched, and may consist of microcredentials;
• A joint master's programme can be offered in whole or in part by digital modes of education such as synchronous hybrid, blended or online distance teaching and learning;
• As students take consecutive modules at different universities based on individual learning agreements and study plans to progress in the joint programme, student mobility is embedded in the curriculum and can be physical or digital accordingly;
• If applicable, joint master's programmes are accessible after recognition of a previous learning or experience procedure (see ECTS Guide)
A joint master's programme is accompanied by a diploma supplement;
Joint master's programmes are subject to joint procedures for quality assurance and accreditation by a recognized accreditation agency;
Observations
• Joint Master's programmes have been promoted since 2004 by the Erasmus Mundus Action of the European Commission. This specific action aims to promote excellence and achieve global attractiveness and competitiveness of the higher education institutions concerned. The specificity of Erasmus Mundus joint master's lies in the high degree of jointness/integration between the partner institutions and the excellence of their academic content. The programmes should promote European excellence in higher education and include mandatory individual mobility for all students participating in the programme. The EMJM action funds scholarships for the best international students who apply. The mobility pathways and the mechanism for recognition of study periods between the partner institutions must be agreed within the consortium in the project application phase.
• Other European Commission actions, such as Partnerships for Cooperation, Alliances for Cooperation and the European University Initiative (EUI), promote academic cooperation and mobility between European higher education institutions. Within these frameworks, joint courses and programmes are developed in various fields, as well as short learning programmes and microcredentials for continuing education. These programmes can include physical and digital mobility adapted to the needs of students.
• The Corona crisis had a disruptive impact on the academic collaboration and mobility organized by the alliances of the European Universities. In the European Commission's May 2020 survey, 96% of institutions think they would have been better prepared to deal with this pandemic if their European university had already been fully operational (European Commission, 2020). An example of the most useful features mentioned by them was a fully functional EU digital inter-university campus, where member universities pooling together their on-line courses to offer continuous delivery of high quality education through larger volumes of on-line courses for all their students,
sharing operational joint digital learning and teaching environment with common digital governance tools. 85% plan to move quicker towards a European virtual inter-university campus. 90% would find useful that Erasmus+ supports blended mobility formats (ie short physical mobility, blended with virtual mobility).