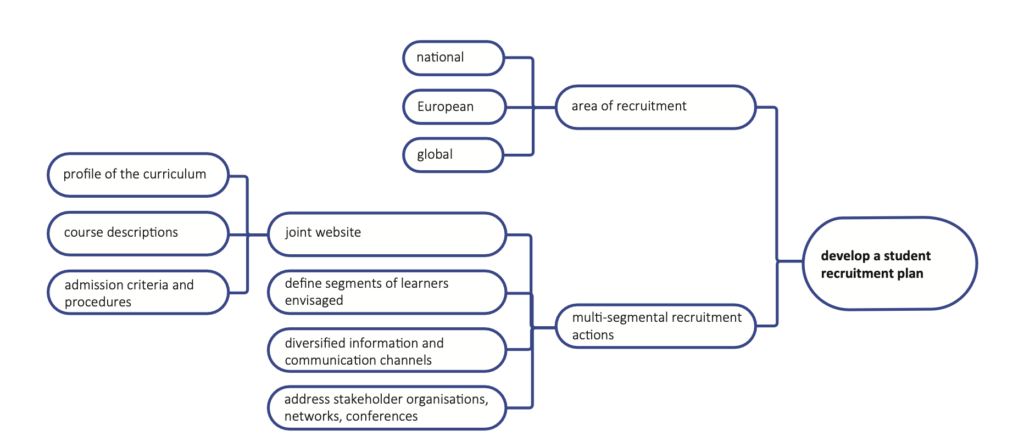 Partner universities have to conceive a joint student recruitment action plan for the joint master's programme, determining:
• Define your recruiting area
• Organize multi-segmental recruitment campaigns
Guidelines
Define your recruiting area
Depending on the objectives and design of the joint master's programme, partner institutions can recruit students at national, European and global levels. In the case of a transnational delivery, course and programme designers must consider the characteristics of the students and contexts that transcend their institutions or partnership.
Organize multi-segment recruitment campaigns
The partnership should organize recruitments for transnational delivery. A joint website for the joint master's gives students access to information about European joint master's programmes and links them to an application form to start the admission process. It clarifies the objectives and profile of the study programme, the course descriptions and testimonials, the student profile and the admission criteria.
In specific cases, a link can be published on the Erasmus Mundus or the EIT websites.
Recruitment campaigns will be launched for universities around the world, scientific and professional organizations, business sectors, alliances and networks, as well as individual students.
Various communication channels can be used, such as mailings, social media and participation in conferences and student recruitment fairs. Communication and recruiting actions should be set up per target segment of students.
next chapter: Develop a sustainability framework
previous chapter: Develop a business plan
back to overview: Models and guidelines for the design and development of joint master's programmes