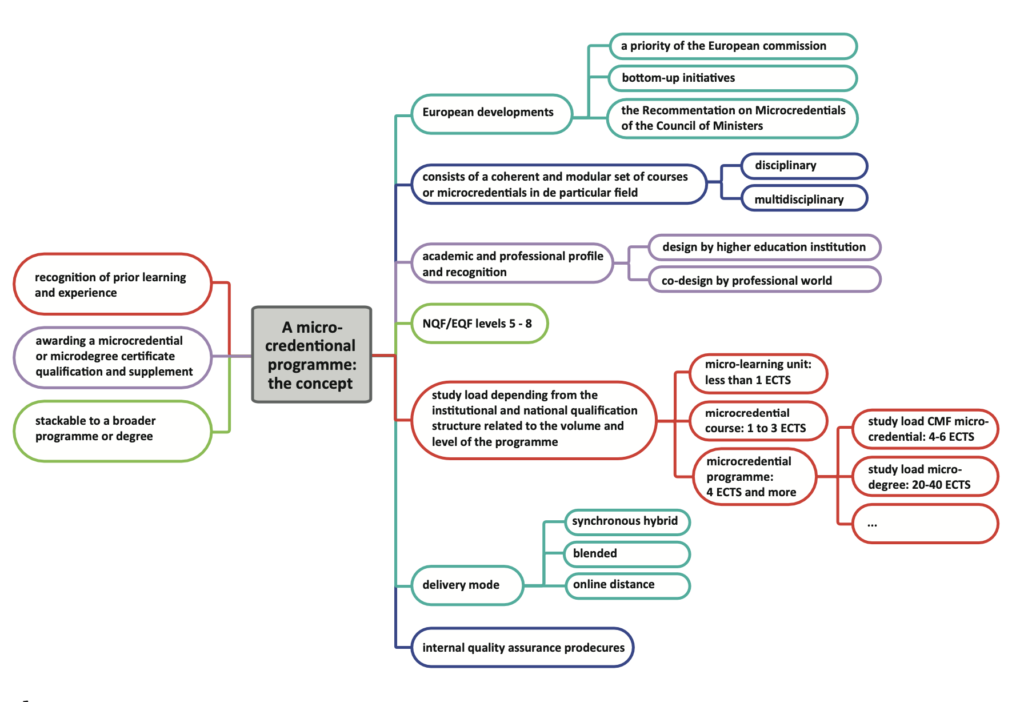 The concept
These guidelines for micro-credential programmes are in line with the latest developments in EU policy developments in the field of micro-credentials and with recent practices. A European consensus is emerging on the concept of micro-credentials and further institutional and national frameworks will build on this foundation in the coming years.
European developments
Micro-credentials have become a priority for the European Commission and the Bologna Process:
The Digital Education Action Plan (DEAP) refers to micro-credentials that "facilitate the provision of flexible, accessible learning opportunities, including for adult learners and professionals, and help them re-skill, up-skill or change careers", capturing "the learning outcomes of short-term learning" (European Commission, 2018). They are mentioned in the 2020 Bologna Process Rome Ministerial Communiqué, asking "the Bologna Follow Up Group (BFUG) to explore how and to what extent smaller, flexible units, including those leading to micro- credentials, can be defined, developed, implemented and recognised by our institutions using EHEA tools" (EHEA, 2020).
The European Commission's Micro-credentials in Higher Education Consultation Group, was composed of leading experts and organisations in the field. It discussed the DEAP strategies and several ongoing EU projects, and it was supported by comprehensive reports on the state-of-the-art of micro-credentials (Orr et al., 2020; Brown, et al., 2021). The Group proposed a definition of a micro-credential award. Micro-credential qualifications proof "evidence of the learning outcomes that a student has acquired after a short learning experience. These learning outcomes are tested against transparent standards. The evidence is contained in a certified document stating the name of the holder, the learning outcomes achieved, the assessment method, the awarding body". As far as formal education is concerned, it is also referring to "the qualifications framework level and the credits obtained". Micro-credentials are student-owned, can be shared, are transferable, and can be combined into larger credentials or qualifications. They are supported by quality assurance according to agreed standards" (European Commission, 2021).
The Microbol project brought together the members of the Bologna Process to explore how micro-credentials fit into the framework of the European Higher Education Area (EHEA) and linked micro-credentials to the main commitments of the Bologna Process. A micro-credential is "designed to provide the learner with specific knowledge/skills/competences that meet societal, personal, cultural or employability needs. Micro-credentials are subject to a quality assurance assessment in accordance with the ESG (Standards and Guidelines for Quality Assurance in the European Higher Education Area). They have an explicit reference to defined learning outcomes at a specific EQF-EHEA/NQF (European/National Qualifications Framework in the European Higher Education Area) level that will be achieved, the workload, expressed in ECTS, and to the assessment methods and criteria used. Any micro-credential can be recognized by a higher education institution as, and through recognition of prior learning procedures (RPL). Micro-credentials are not only useful for professionals, but can also complement the curriculum for undergraduate, graduate and doctoral students (Cirland, E. & Loukkola, T., 2020).
Bottom-up initiatives
Bottom-up, several initiatives have been developed to implement micro-credential programmes in practice.
The European MOOC Consortium (EMC), consisting of the main European MOOC platforms (Futurelearn (UK), France Université Numérique, Miriadax (SP), EduOpen (IT), iMooX (AU), NAU (PT), AI Campus (GE), OpenupEd (EADTU)) has developed standards for the Common Micro-credential Framework (CMF) for MOOC-based programmes (see the chapter on qualifications). CMF micro-credentials consist of a coherent set of MOOCs, have a size of 4 to 6 ECTS and are linked to an EQF level of 5, 6, 7 or 8 levels. The Bologna tools are used. CMF is a European response to a wide variety of qualifications, such as MicroMasters and nanodegrees, that do not use these tools (European MOOC Consortium, 2018).
In 2017, EADTU members started developing short learning programmes (SLPs). They were a first step in organizing online continuing education and professional development offerings that address the time horizon of learners at work and the needs of the economy and society. Short learning programmes in this concept consist of a coherent set of courses in a field with a total learning volume of 5 to 30 ECTS at EQF levels 5,6,7 and 8. Short learning programmes can be divided into stackable CMF credentials that award intermediate qualifications. The Bologna instruments are used in a similar way. The name of the final qualification differs per institution (EADTU, 2021).
Along these developments, the Micro-HE project (Micro-HE, 2020) gathered the state of the art of micro-credentials in European higher education institutions and was forecasting the impact of the modularisation of higher education on higher education institutions. It was also examining adequate recognition instruments for micro-credentials and proposing a meta-standard for the description of micro-credentials to facilitate the transfer and portability of micro-credentials. As a follow-up, the ECCOE project (ECCOE, 2022) developed descriptors for micro-credentials and created a Model Credit Recognition Agreement for cross-institutional recognition.
The Evaluate and STACQ projects of several NARIC offices aim to support institutions in the credential evaluation of micro-credentials for recognition by universities and employers and of mobility (Nuffic, 2022). It produced both an online evaluation tool for micro-credentials and a paper on the future of the qualification.
A CEDEFOP study (CEDEFOP, 2022) provided a better understanding of the role played by micro-credentials, as an education, training and learning element, in supporting labour-market related and employment-relevant training. It aims to offer new knowledge on the characteristics of micro-credentials as well as their impact on existing qualifications and recognition systems.
The EC proposal for a Recommendation to the Council of Ministers
In the EC proposal for a Recommendation to the Council of Ministers of Education (European Commission, 2021), a 'micro-credential' means "the record of the learning outcomes that a learner has acquired following a small volume of learning. These learning outcomes have been assessed against transparent and clearly defined standards. Courses leading to micro-credentials are designed to provide the learner with specific knowledge, skills and competences that respond to societal, personal, cultural or labour market needs. Micro-credentials are owned by the learner, can be shared and are portable. They may be standalone or combined into larger credentials. They are underpinned by quality assurance following agreed standards in the relevant sector or area of activity".
In the proposal, micro-credential records should contain a number of standard elements, such as the learning outcomes targeted by the learning experience, the notional workload (in terms of ECTS), the level in the EQF or QF-EHEA frameworks, the form of participation in the learning activity, the type of quality assurance. Optional requirements to the micro-credential description are for example: the prerequisites to enroll, the stackability/integration of the micro-credential.
The proposal calls on the Member States to "supporting the exploration by higher education institutions of the role of micro-credentials to offer learning opportunities to diverse learners, in particular by widening an attractive, inclusive and learner-centred offer of lifelong learning activities, including through the activities of the European Universities Alliances", and to support the delivery and design of micro-credentials, especially also in collaboration with other providers (companies, social partners, civil society organisations, local authorities and private providers).
This eBook offers models and guidelines for designing and developing micro-credential programmes, taking into account the standard elements in the Recommendation. When the Recommendation is adopted in 2022, national Member States will start or complete the development of their own frameworks and regulations.
Micro-credential programmes: the concept
In terms of volume for a micro-credential, the European Commission's Micro-credentials Consultation Group in Higher Education" allowed "flexibility for innovation and experimentation: "from one ECTS to less than a full degree". From a design point of view, however, volume matters. A distinction must be made between:
– a micro-credential course, consisting of a single course (1-3 ECTS) using a method of course design.
− The design of micro-credential courses is described in another eBook. This also includes the design of microlearning units of less than 1 ECTS within a course, for which labour market demand is growing. These "learning objects" can have also an innovative impact on mainstream courses.
− a micro-credential programme, consisting of a coherent set of courses in a specific field, requiring a curriculum design methodology.
− In this e-book, we discuss the design of joint micro-credential programmes. They have a total learning volume of 4-6 ECTS (CMF micro-credential programmes) or more (for example, a microdegree programme of 20-40 ECTS or an undergraduate or postgraduate certificate programme of 60 ECTS). The volume will depend on the institutional and national qualification structure for micro-credentials that will be developed in the coming years as a follow-up to the intended Recommendation of the Council of Ministers on Micro-credentials.
The design of a micro-credential programme can be disciplinary or interdisciplinary, according to the objectives of the programme and the pedagogical approach chosen (e.g. a challenge-based approach);
Micro-credential programmes have an academic and professional profile and seek academic and professional recognition. They are designed by a higher education institution and possibly co-designed by a labor market organization (a public or private enterprise; a professional body; an employment agency);
A micro-credential qualification in higher education refers to a 5, 6, 7 or 8 level of the national or European qualifications frameworks, awarding a qualification such as micro-credential certificate (CMF) or a broader undergraduate or postgraduate certificate, a professional program certificate, an expert or specialist certificate, a focus diploma, a MicroMaster, a nanodegree, etc. The micro-credential programme qualification is accompanied by a qualification supplement.
For lifelong learners, digital education is most flexible, accessible and scalable. Digital delivery methods for micro-credentials are mainly based on synchronous hybrid (e.g. virtual classrooms), blended or online and distance teaching and learning formats;
If applicable, micro-credential programmes are accessible after a recognition of prior knowledge or experience procedure (see ECTS User's Guide, European Commission, 2016). This can include also non-formal education from providers other than higher education institutions as well as informal learning;
Micro-credential programmes can be designed to be stackable into a broader programme. For example, a CMF micro-credential programme can be stackable into a broader micro-credential programme. This programme can in turn be stackable into bachelor's or master's degrees;
Micro-credentials are subject to the institutional quality assurance procedures of a higher education institution.
Recommendations
To ensure professional recognition, micro-credential programmes can be designed together with professional organizations and employers (e.g. for needs assessment, case studies, projects, workplace learning, internships, demonstrations, etc.). In some cases, a labour market organization also provides some of the content for which also a separate professional certificate can be issued;
A modular structure for micro-credential and degree programmes helps students to structure learning and stimulates study progress;
Micro-credential qualifications should be further integrated into a qualification structure for lifelong learning as part of the European Higher Education Area;
Digital education is recommended to make the micro-credential programme accessible and flexible for learners on the job. It makes continuing education and professional development scalable.
next chapter: The design of a joint micro-credential programme: overview
previous chapter: Introduction
back to overview: Models and guidelines for the design and development
of a joint micro-credential programme in higher education