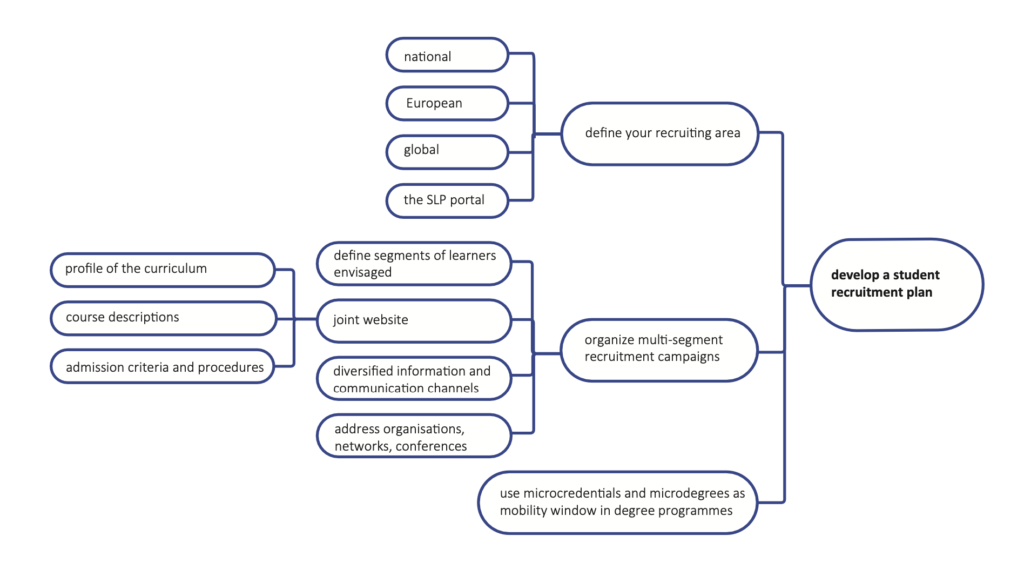 Partner universities have to conceive a joint student recruitment action plan for the joint learning programme:
Define the recruiting area;
Organize multi segment recruitment campaigns;
Use micro-credential programmes as a mobility window in degree programmes.
Guidelines
Define your recruiting area
Depending on the objectives and set-up of the joint learning programme, partner institutions can recruit learners at national, European and global level. In the case of transnational delivery, course and programme designers must consider learner characteristics and contexts beyond their institutions or partnership.
The short learning programme and MOOCs for the labour market portals will give learners access to information about micro-credential programmes and link them to the website where they can register and start the admission process.
Organize multi-segment recruiting campaigns
The partnership should organize recruitment campaigns for transnational delivery. That is why a website for the micro-credential programme is needed, on which the objectives and profile of the study programme, course descriptions and testimonials, the student profile and the admission criteria are clarified.
Recruitment campaigns will be set up targeting companies, business sectors, professional associations, alliances and networks, as well as individual students. Various communication channels can be used, such as mailings, social media and participation in conferences and trade fairs. Communication and recruitment campaigns should be set up per target learner segment.
Use the micro-credential programme as a mobility window in degree programmes
Micro-credential programmes are particularly suitable to serve as a mobility window for broader university programmes. To operationalize this, a learning agreement between the micro-credential programme partnership, the home university and the student is needed (see Chapter on mobility windows).
next chapter: Develop a sustainability framework
previous chapter: Develop a business plan
back to overview: Models and guidelines for the design and development
of a joint micro-credential programme in higher education