Since 1987, the European concept of mobility is basically built on the successive Erasmus programmes:
• Exchange mobility in the Erasmus + programme;
• Mobility in transnational course and programme collaboration;
• Mobility in university networks and alliances;
• Virtual Exchanges in Higher Education and Youth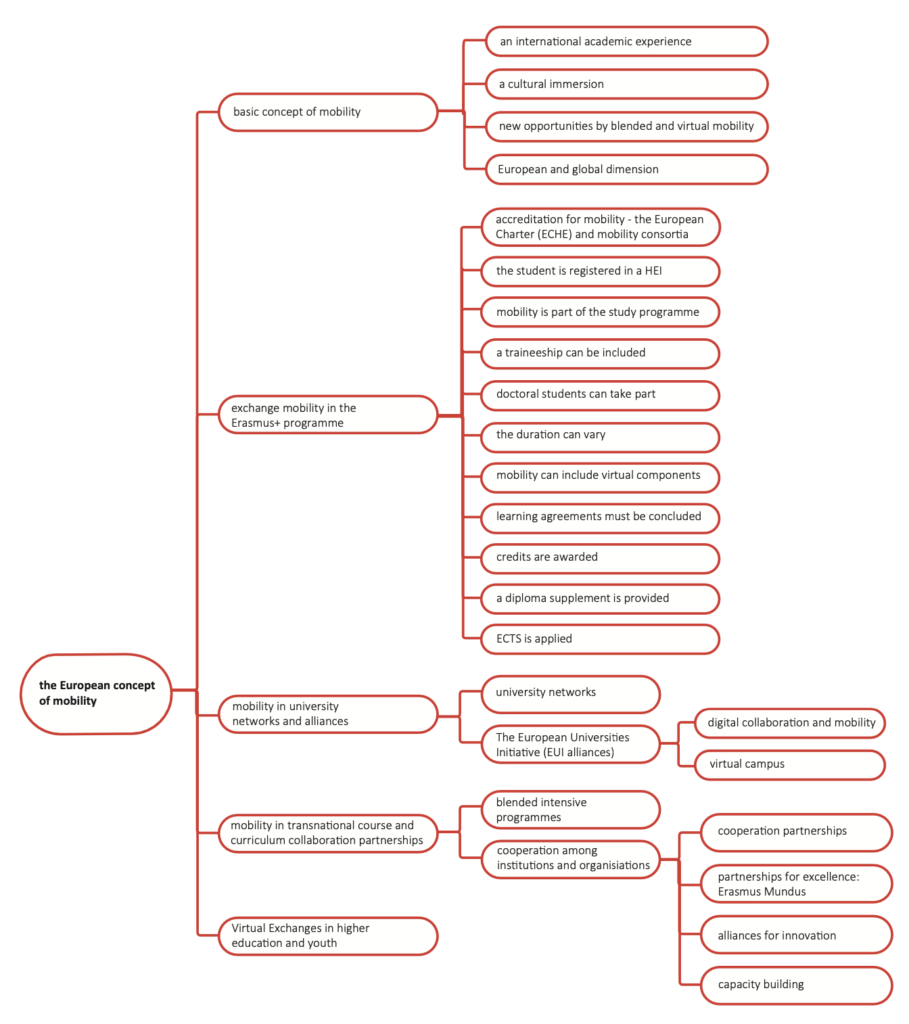 Basic concept of mobility
The basic concept of mobility is to provide students with an international academic experience in a partner institution abroad. In the case of physical mobility, this is accompanied by a cultural immersion.
With the proliferation of digital approaches to education, also new formats of digital mobility are emerging, opening up more international learning opportunities for students. The Erasmus+ program creates a framework in which most institutions organize educational cooperation and mobility (European Commission, 2022a).
University networks have always supported collaboration and mobility, taking advantage of the Erasmus programme's capabilities. Most recently, the European Universities Initiative (EUI) alliances organize collaboration and mobility, building integrated European campuses for research, innovation and education using new collaboration and mobility formats, based on ICT.
An international academic experience
The core purpose of any mobility is to provide an international academic experience for students:
• related to a formal course or curriculum;
• on the basis of a bilateral or network/consortium agreement between the institutions involved;
• guaranteeing the rights of the student by means of a learning agreement.
A cultural immersion
In addition to this international academic experience, immersion through physical mobility, as envisaged in the original mission of the Erasmus programme, offers opportunities to stimulate personal development, get acquainted with other cultures, develop intercultural skills, create an open mind, build personal networks and make friends for life, and learn foreign languages.
New opportunities by blended and virtual mobility
With the recent proliferation of digital approaches to teaching and learning, blended and virtual mobility are emerging as new formats for collaboration and mobility in courses and programmes, involving large or small groups of students from two or more universities at the same time. Typically, they include online learning activities or virtual classrooms. The combination of physical and digital mobility is one of the cornerstones of the success of the European Universities Initiative virtual campuses and alliances.

Blended and virtual mobility also create opportunities for students who do not participate in physical mobility for various reasons. Of course, the benefits of long-term immersion abroad cannot be completely replaced by these digital formats only. Blended and virtual mobility are schemes in their own right, enhancing and expanding mobility opportunities for in principle all higher education students.
Since the core of education is based on the interaction between teaching staff and learners, teaching and learning activities during mobility must by definition also be interactive. Digital mobility strengthens this interaction.
With the new opportunities for blended mobility, the Erasmus+ programme of the European Commission aims at mobility participation rates of more than 50% of students at European universities (European Commission, 2022a).
European and global dimension
The Erasmus+ programme has a strong international dimension by supporting cooperation and mobility with third countries. In practice, The Erasmus cooperation and mobility policies are differentiated into 14 regions (European Commission, 2022a).
In doing so, the European Commission supports institutional internationalization policies regarding cooperation with universities in specific regions and promotes the intercultural understanding and global involvement of their students.
Exchange mobility in the Erasmus+ programme 2021–2027
By setting up the Erasmus programme in 1987, the European Commission has created a culture of mobility in European universities that is unique in the world. Since then, the programme has expanded from mere exchange mobility to mobility that supports collaboration between courses and programs and innovation in teaching and learning. Here are the main features of mobility as envisioned by the European Union (European Commission, 2022a).
Accreditation for mobility – the European Charter (ECHE) and mobility consortia
Higher education institutions (HEIs) must have been awarded the Erasmus Charter for Higher Education (ECHE) (European Commission, 2021a, 2022b), before applying for a mobility project to their Erasmus+ National Agency. By signing the Erasmus Charter for Higher Education, higher education institutions commit to provide all the necessary support to mobility. The participating institution has to carry out mobility for the purpose of studying and teaching within the framework of prior agreements between institutions.
In addition to individual higher education institutions, groups of institutions may apply for an Erasmus accreditation for a higher education mobility consortium. funding of a higher education mobility project. Such a mobility consortium may apply for European support for international collaboration and mobility.
Exchange mobility in the Erasmus+ programme
In the Erasmus+ programme (Key Action 1), it is required that the mobility takes physically place in another country than the country of residence, possibly combined with a longer period of virtual participation.
It may take the form of study and traineeships or apprenticeships and may include preparatory
activities, such as training in the host language, as well as follow-up activities.
The student is registered in a higher education institution
Eligible students are registered in a higher education institution and enrolled in studies leading to a recognised degree or another recognised tertiary level qualification, up to and including the level of doctorate.
Mobility is part of the study programme
Mobility can be carried out in the form of a study period abroad at a partner higher education institution. The study period abroad must be part of the student's study programme to complete a degree at any study field and study cycle short cycle/bachelor/master/doctoral). A study period abroad may include a traineeship period as well. Such a combination creates synergies between the academic and professional experience abroad.
A traineeship can be included
A traineeship (work placement, internship) abroad in an enterprise, a research institute, a laboratory, an organisation or any other relevant workplace can be included. Traineeships abroad are supported during studies at any study cycle and for recent graduates. This also includes teaching assistantships for student teachers and research assistantships for students and doctoral candidates in any relevant research facility.
Doctoral students can take part
To better meet the diverse learning and training needs of doctoral candidates and to ensure equal opportunities, doctoral candidates and recent graduates ('post-docs') can undertake short-term or long-term physical study or traineeship mobility periods abroad. Adding a virtual component to the physical mobility is encouraged.
The duration can vary and include virtual components and a traineeship
The duration of physical student mobility can range from 2 to 12 months. Any student may combine a shorter physical mobility with a virtual component. In addition, any student may participate in blended intensive programmes. In these cases, physical mobility must last between 5 days and 30 days and be combined with a compulsory virtual component facilitating collaborative online learning exchange and teamwork. A blended mobility for studies must award a minimum of 3 ECTS credits.
Virtual mobility is defined as a set of activities supported by ICT, including e-learning, that realise or facilitate international, collaborative experiences in a context of teaching and learning.
This can include a complementary traineeship period, if planned, and may be organised in different ways depending on the context: either one activity after the other or both at the same time. The combination follows the funding rules and minimum duration of study mobility.
Learning agreements must be concluded
An agreement between the sending and receiving organisation and the participating individuals has to be concluded, defining the aims and content of the mobility period in order to ensure its relevance and quality.
As part of the European Student Card Initiative, Learning Agreements are switching from a paper format to a digital format (European Commission, . The digital Learning Agreements are referred to as the Online Learning Agreements (OLAs) and they are progressively being rolled out as a standard (European Commission, 2022d).
Credits are awarded
Credits are awarded for a set of learning outcomes of an individual which have been assessed and which can be accumulated towards a qualification or transferred to other learning programmes or qualifications. After the mobility phase, students return to their home institution to complete their studies.
A diploma supplement is provided
A diploma supplement provides more detailed information on the studies completed according to an agreed format, which is internationally recognized, accompanying a higher education diploma. It provides a standardized description of the nature, level, context, content and status of the studies completed by its holder. It is produced by higher education institutions according to standards agreed by the European Commission, the Council of Europe and UNESCO.
In the context of an international joint study programme, it is recommended to deliver a "joint diploma supplement" covering the entire programme and endorsed by all the degree awarding universities.
ECTS is applied
The ECTS (European Credit Transfer and Accumulation System) for credit accumulation and transfer facilitates the planning, delivery and evaluation of study programmes and learner mobility through the recognition of qualifications and periods of learning. The system helps to design, describe and deliver study programmes and award higher education qualifications. The use of ECTS, in conjunction with outcomes-based qualifications frameworks, makes study programmes and qualifications more transparent and facilitates the recognition of qualifications (European Commission, 2017).
Mobility in university networks and EUI alliances
In the late 1980s and 1990s, several university networks with members of the same profile were established to support Erasmus mobility between them, for example the Coimbra, the Santander, the UNICA and the Utrecht groups. These institutional networks, created by rectors, had a huge impact on all mobility in the early phases of the Erasmus programme. They established international education committees at faculty or curriculum level to make mobility agreements between universities and promote student mobility. These networks are still an important driver for mobility, although faculties and programme boards have extended mobility partnerships to many universities with which they have strong
research or educational collaboration.
Today, these networks can organize a mobility consortium for their activities (European commission,2022a).
The recent European Universities Initiative goes beyond the ambitions of these networks. These university alliances have a single steering committee to organize physical, blended and virtual mobility for the majority of their students, often embedded in courses and programs and other educational activities. The ultimate goal of many EUIs is to create a seamless environment or virtual campus where all boundaries between institutions are removed to become a single entity intertwined with different local, regional and global contexts (e.g.Euniwell, 2022). This environment covers education and research as well as services to
society and all their interactions.
Mobility in transnational course and curriculum collaboration partnerships
Erasmus+ actions stimulate mobility in transnational course and program collaboration. This is currently the case in intensive programs (Key Action 1) and diverse actions concerning the cooperation among institutions and organizations (Key Action 2) (European Commission, 2022a).
Blended intensive programmes
In blended intensive programmes, collaborating universities organise short blended intensive programmes of learning, teaching and training for students and staff. Students and staff undertake a short-term physical mobility abroad combined with a compulsory virtual component facilitating collaborative online learning exchange and teamwork. Blended intensive programmes aim at reaching all types of students from all backgrounds. The virtual component brings the learners together online to work collectively and simultaneously on specific assignments that are integrated in the blended intensive programme and count towards the overall learning outcomes. In addition, blended intensive programmes can be open to student and staff from higher education institutions outside the partnership.
Physical mobility from 5 days to 30 days of programme duration. No eligibility criteria is set for the duration of the virtual component but the combined virtual and physical mobility must award a minimum of 3 ECTS credits for students.
Cooperation among institutions and organizations
In Cooperation Partnerships, higher education institutions can make use of mobility of students and staff when this fits to the objectives of the partnership. Cooperation partnerships enable transformation and change (at individual, organisational or sectoral level), leading to improvements and building capacity in the institutions concerned to work transnationally and across sectors.
The Erasmus Mundus action is a Partnership for Excellence. It supports high-level integrated transnational study programmes at Master level, delivered by an international consortium of higher education institutions from different countries worldwide and, where relevant, other educational and/or non-educational partners. Student and staff mobility are embedded in the programme.
The Alliances for Education and Enterprises bring together enterprises and both higher education and vocational training providers to work together in partnership. They demonstrate their innovative and transnational character in all aspects. This can include mobility of staff and students, when this fits the objectives of the alliance.
The Capacity Building in Higher Education (CBHE) action supports international cooperation projects in multilateral partnerships in third countries not associated with the Erasmus programme. Mobility schemes can be included. It focuses on university capacity building, socio-economic recovery, growth and prosperity and responding to the recent decline in human development, vulnerability and increasing social, economic and environmental inequalities.
Virtual Exchanges in Higher Education and Youth
These online people-to-people action of the European Commission promotes the intercultural dialogue and soft skills development between individuals from third countries not associated to the programme, EU Member States or third countries associated to the programme. They take place in small groups and are always moderated by a trained facilitator (European Commission, 2022a).
They make it possible for every young person to access high-quality international and cross-cultural education (both formal and non-formal) without physical mobility. They should be easily integrated into youth (non-formal education) projects or higher education courses.
The action aims at:
• encouraging intercultural dialogue with third countries, building on digital, youthfriendly
technologies;
• promoting various types of virtual exchanges, allowing more young people to benefit from intercultural and international experience;
• Enhancing critical thinking and media literacy, particularly in the use of internet and social media, such as to counter discrimination, indoctrination, polarization and violent radicalisation;
• fostering the digital and soft skills development of students, young people and youth workers;
• promoting citizenship and the common values of freedom, tolerance and nondiscrimination through education;
Virtual Exchanges in Higher Education and Youth projects last 3 years (max. grant 500.000€).
next chapter: More flexible and accessible internationalization
by integrating new modes of mobility
previous chapter: Models and guidelines for digital collaboration
and mobility in European higher education: an overview
back to overview: Models and guidelines for digital collaboration
and mobility in European higher education