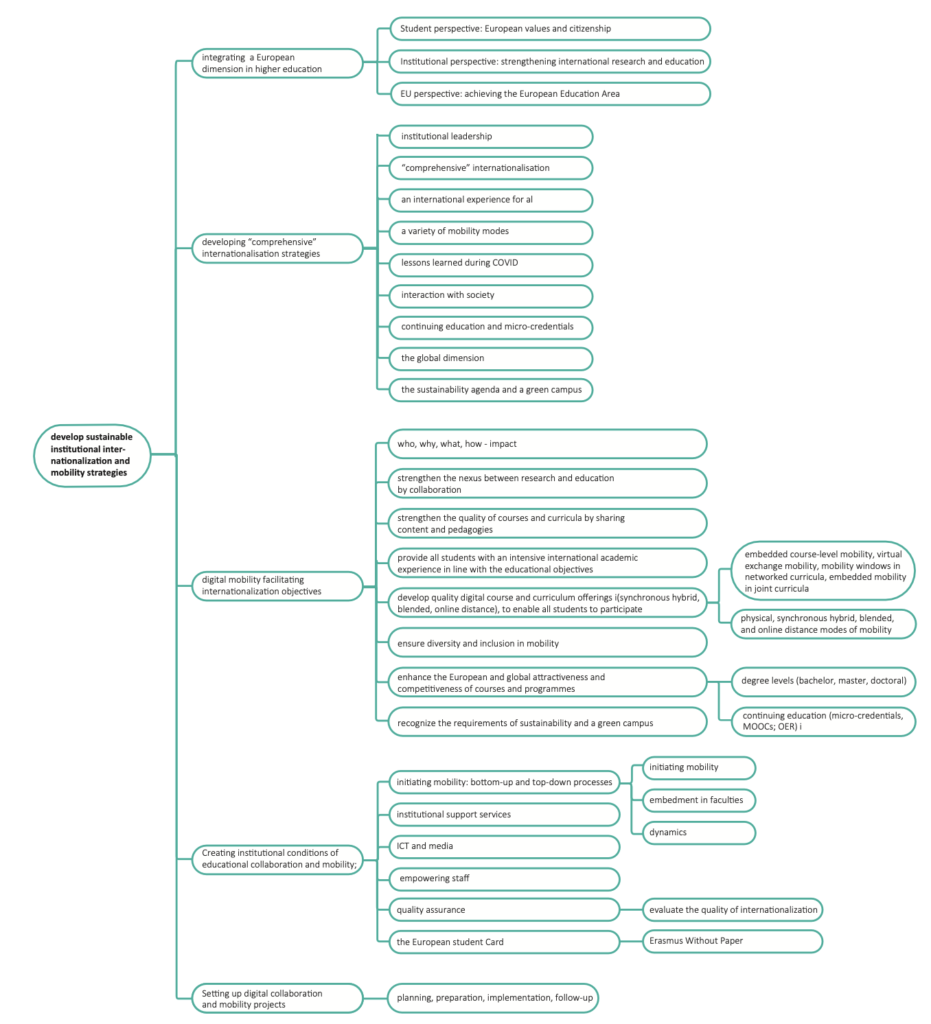 Institutions should develop sustainable institutional strategies for collaboration and mobility and enhanced digital educational technologies and pedagogies by:
• Integrating a European dimension in higher education
• Developing leadership and "comprehensive" internationalisation strategies
• Developing objectives for the digitalization of educational collaboration and mobility;
• Creating institutional conditions of educational collaboration and mobility;
• Setting up digital collaboration and mobility projects
Integrating a European dimension in higher education
The European dimension of international higher education concerns the embedding of the international learning experience in European values and citizenship; strengthening cooperation in high-quality research and innovation and the nexus with teaching and learning; and making the European Education Area a reality.
Student perspective: European values and citizenship
The core objective of any mobility is the student's international academic experience. In the European context, this means that this experience should be embedded in European values and that European citizenship should be promoted intimately related to these values. Cornerstones of these values are human dignity, freedom, democracy, equality, rule of law, and human rights (European Commission, 2022d).
Through academic collaboration and mobility, universities foster a positive and reflective attitude of students towards a European identity, in addition to a global, national and regional identity, as expressed by EUA in the University without Walls vision 2030 (EUA, 2021).
Institutional perspective: strengthening international research and education
The future of European universities will be international, as already evidenced by university networks and EUI alliances. International cooperation and mobility form the basis for strengthening research and innovation and the nexus with teaching and learning. Especially, doctoral and research mobility schemes will support research and innovation cooperation (European Commission, 2022a; Marie Sklodowska-Curie Actions, 2022).
EU perspective: achieving the European Education Area
Through the creation of the European Education Area (EEA), the EU is promoting mutual learning on policy reforms of national higher education systems. The Bologna process also continuously supports the coordination, cooperation and quality assurance of these systems. This creates a framework for the digitization of education and mobility that will support universities in developing their international strategies for transnational education for the benefit of all students (European Commission, 2022e).
To promote the EEA, the Digital Education Action Plan (DEAP) and the European Digital Education Hub (EDEH) are launched to strengthen cooperation in education. The first priority of the Action Plan is the development of a high-quality digital education ecosystem and the implementation of plans for the digital transformation of educational institutions (European Commission, 2022a).

Bringing together the community working on digital education, the EDEH hub provides a space to strengthen cooperation on digital education at EU level and contribute to the exchange of good practices, co-creation and experimentation. This includes international digital collaboration and mobility (European Commission, 2022f; European Commission, 2022k).
Developing "comprehensive" internationalisation strategies
Institutional leadership
International strategies must be embraced en masse by all institutional leaders and shared with all faculties, teachers, support services and students to give an international dimension to the entire university.
"Comprehensive" internationalization
The concept of "comprehensive" internationalization emphasizes the need to develop an institution-wide approach to internationalization. Extensive internationalization affects the campus as a whole, and is translated into international frames of reference, partnerships and relationships of the institution. It shapes an institutional ethos and values and influences the whole university (Hudzik, 2011). "comprehensive" internationalization should be seen as an institutional necessity, not just a desirable option.
An international learning experience for all
This implies that an international academic experience should be part of every curriculum for in principle all students, which can only be achieved through different mobility formats. In European higher education, the free movement of students and staff and increased opportunities to learn in an international context is a key priority of a comprehensive internationalization strategy.
But, according to the 2019 Impact Study, financial concerns and personal reasons remain the most frequent barriers to study abroad: around two thirds of non-mobile students reported some type of financial concern and around one in two reported family reasons and personal relationships as main barriers to mobility. Fears of delay in graduate and lack of information about how the programme works also remain frequent barriers (European Commision,2019).
A variety of mobility modes
By using a variety of mobility modes in accordance with the objectives of courses and programs and the characteristics of students, internationalization becomes more flexible and mobility becomes more accessible, inclusive and affordable for all. Digital mobility enables institutions to teach intensively to very large and very small groups, with freedom of place, time, pace and paths of study when needed.
This creates new opportunities for innovation in the field of internationalization.
Lessons learned during COVID
Strategy development will build on lessons learned during COVID and new pedagogies and technologies developed from these early emergency experiences. Mobility must be integrated into the normal processes of (digital) course and curriculum design.
Interaction with society
The University of the Future 2030 (European Commission, 2020d, 2022g, EUA, 2021) interacts more than ever with society in research, innovation and education. This quadruple helix relationship will also increasingly form part of internationalization policy. That is why collaborations are set up with external partners from industry, NGOs, international organizations or local governments for international internships, innovation projects or service learning. This can be combined with a challenge-based learning design with partner universities and external partners in a combination of physical and digital forms of
mobility (UNA Europa, 2022).
In addition to bilateral initiatives, these activities can be organized with more partners in university networks or alliances (UNA Europe, 2022).
Continuing education and micro-credentials
Continuing education is an essential part of the university's mission and provisions, often organized in centers for continuing education or extension schools. International collaboration should extend to these areas to ensure an efficient outreach across Europe to meet labour market competence needs. Digital courses and microlearning units are most flexible and accessible for workers who want to upskill or reskill. In university alliances, scalable joint micro-credentials with embedded mobility paths are being developed. In some cases, these micro-credentials are based on MOOCs.
The global dimension
To realize a global dimension in internationalization policies, the combination of physical and digital mobility can make European international curricula attractive and affordable for non-European students, while at the same time benefiting from a European learning experience and staying connected to their own institutions and countries. It contributes to global institutional networking for research, innovation and education.
The sustainability agenda and a green campus
Future mobility programmes should also consider the sustainability agenda and the need for a green campus, while taking into account the environmental footprint.
Digital mobility facilitating internationalization objectives
In a further stage, the university defines concrete internationalization objectives to realize these strategies, making use of the full potential of physical and digital mobility. How can physical and digital mobility contribute to these strategies and to further internationalization objectives? Which are the digital course offerings or learning activities / course components to be considered for digital mobility? Why does digital mobility offer best solutions, next to physical mobility schemes? for which duration? Who will be affected by these objectives: which teaching staff and which support services?
The starting point is that physical and digital mobility must support the integration of an international dimension to the students' learning experience. Therefore, it becomes an integral part of the curriculum, ensuring internationalization for everyone. Mobility is part of course and curricula design and not just an activity in itself.
To put this into practice, the benefits of physical and digital mobility as outlined in section 6 of this eBook, clear internationalization goals and the role of mobility in achieving them must be defined such as:
• Strengthen the nexus between research, innovation and international education through cooperation and mobility with partner universities and in university networks and EUI alliances;
• Strengthen the content and quality of the course and curriculum by sharing content and pedagogies with partner universities by the mobility of staff and students;
• Provide all students with an intensive international academic experience in line with the educational objectives of the course and programme and the profile and preferences of the student, by personalised physical and digital mobility schemes;
• Develop quality digital course and curriculum offerings in networks and alliances (synchronous hybrid, blended, online distance), to enable all students to participate in a variety of physical and digital mobility schemes;
• Ensure diversity and inclusion in in offering an international learning experience by adapted schemes of mobility, in line with the Resolution of the European Parliament of 23 June 2022;
• Increase the European and global attractiveness and competitiveness of courses and programmes in degree education (bachelor, master, doctorate) and lifelong learning (micro-credentials, MOOCs, OERs) through flexible and affordable mobility schemes;
• Recognize the requirements of sustainability and a green campus by a combination of physical and digital mobility.
Creating institutional conditions
In the Impact 2019 study, around 95% of the higher education institutions, that have an internationalisation strategy, reported that student mobility is a (very) important part of it. By contrast, only between half and a third of HEIs (depending on the field of study) reported that student mobility is mandatory or an option explicitly integrated in the curriculum for their students. There is place for improvement, although the Erasmus+ programme had already a clear effect on mobility (European Commission, 2019).
Initiating mobility: bottom-up and top-down processes
Internationalization starts with education and research staff through international conferences and publications, followed by more structural networking. By integrating these networks into the internationalization policy at faculty level, collaboration and mobility are streamlined and organised. This ultimately results in structural cooperation and mobility.
At the institutional level, university leadership is increasingly taking collaboration and mobility initiatives within the framework of institutional networks and alliances of the European Universities Initiative (EUI). This more top-down approach can only succeed if support is found among the faculties and teaching staff.
Both approaches require continuous alignment where bottom-up and top-down processes meet. Much depends on institutional culture.
In most universities, students play a role in these processes as they are represented in the programme boards and in central level councils, where internationalization policies are discussed.
Institutional support services
As internationalization through course and curriculum collaboration and mobility increases, universities must deliver excellence in support services. With the teaching staff and programme boards, these services take care of the design of international courses and curriculum and the complete mobility life cycle before departure, during the physical and digital mobility trajectories and after the mobility period.
It concerns specific efforts and synergies between internationalisation, education and learning, ICT, student administration, legal and quality assurance services.
Within the framework of university networks and EUI alliances, cross-institutional support can be provided to course and curriculum teams, as is done by the joint flexible support clusters in the Una Europa Alliance (UNA Europa, 2020; UNA Europa, 2022).
ICT and media
Digital mobility must be supported by appropriate ICT and media infrastructure and software. Most importantly, access should be provided to online courses and learning activities in which interactivity and assessment (formative and summative) play an essential role. In the case of joint courses and curricula, this can be particularly challenging. EUI alliances are currently looking for solutions to connect LMS and course catalogs to facilitate digital course collaboration and mobility.
ICT services should support course and curriculum developers and teachers in selecting and using ICT tools.
Empowering staff
Continuing professional development should be organized for staff at the institutional level in order to make all actors familiar with the design principles of international digital courses and mobility schemes.
Many of these principles can be found in the eBooks on the design of joint masters and joint micro-credential courses and programmes (Henderikx, Ubachs, Antonaci, 2022a, 2022b, 2022c) and in the DigiTeL Pro courses on synchronous hybrid, blended and online distance educational design (EADTU, 2022).
An introduction to joint programs and mobility is also developed by Nuffic (Nuffic, 2020)
Quality assurance
Teaching staff, course teams and programme boards are in a first instance responsible for the quality international courses and mobility, which are monitored by internal quality assurance systems (Ubachs & Henderikx, 2022).
Quality assurance criteria for digital learning as systematized by ENQA (Huertas et al., 2018) and E-xcellence (Ubachs et al., 2016) also apply to digital mobility.
The UniQ project has developed a framework for the quality assurance of course and programme
collaborations and mobility in EUI alliances, dealing with special challenges related to joint courses and programmes.
For external quality assurance and accreditation mainly, the European Approach for Quality Assurance of Joint Programmes (EA) was adopted by European Ministers responsible for higher education. It defines standards that are based on the agreed tools of the EHEA, without applying additional national criteria (EQAR, 2018, 2022).

Subsequently, an online toolkit for implementing this European approach was developed by an international consortium of higher education institutions, quality assurance agencies and international associations (Impea, 2020).
Some national agencies have further developed a manual for the European Approach (VLUHR, 2022).
The European Student Card
The European Student Card is aimed at a secure exchange of student information and allow for seamless transition between higher education institutions (European commission, 2022h). It will give students the chance to access online courses and services provided at other higher education institutions. This will facilitate virtual mobility and digital learning, boosting mobility for all.
In the context of this European Student Card Initiative, the Erasmus+ Mobile App and Erasmus without Paper Network are now available for higher education institutions and students and will be further enhanced by adding new services and features for users. The Erasmus+ Mobile App gives students a single online point of access to all the information and services they need before, during, and after their exchanges abroad. More information can be found at: erasmusapp.eu
The Erasmus without Paper Network allows higher education institutions to connect to a central communication channel to exchange seamlessly student mobility data in a secure and streamlined manner supporting a fully digitalized mobility management, including online learning agreements and digital inter-institutional agreements. See: https://cc.erasmuswithoutpaper.eu
In the future, blockchain technology will support these tools in the framework of the European
Blockchain Services Infrastructure (EBSI). EBSI Early Adopters test this in a real-life setting by taking part in a multi-university pilot (European Commission, 2022i, 2022j).
Setting up a mobility project
The European Commission supports universities to carry out projects promoting different types of mobility, all related courses and curricula (European Commission, 2022a). In this context, a mobility project will consist of the following stages:
• Planning (including defining the learning outcomes, activity formats, development of
work programme, schedule of activities)
• Preparation (including practical arrangements, selection of participants, set up of agreements with partners and participants, linguistic/intercultural/learning- and taskrelated preparation of participants before departure);
• Implementation of the mobility activities;
• Follow-up (including the evaluation of the activities, the validation and formal recognition–where applicable of the learning outcomes of participants during the activity, as well as the dissemination and use of the project's outcomes).
Erasmus+ offers space for developing mobility activities that involve partner organisations with different backgrounds and active in different fields or socio-economic sectors (e.g. traineeships of university students or VET, learners in enterprises, NGOs, public bodies; teachers in schools following professional development courses in companies or training centres; business experts giving lectures or training in higher education institutions, etc.).
Erasmus+ participating organisations have the possibility to organise mobility activities within a broader strategic framework and in the medium term.
Through a single grant application, the coordinator of a mobility project will be able to organise several mobility activities, allowing many individuals to go abroad to different countries. As a consequence, under Erasmus+ the applicant organisations will be able to conceive their project in line with the needs of participants, but also according to their internal plans for internationalisation, capacity building and modernization.
next chapter: References
previous chapter: Benefits of physical and digital student mobility
back to overview: Models and guidelines for digital collaboration
and mobility in European higher education